About Us
Antique Primitives and more!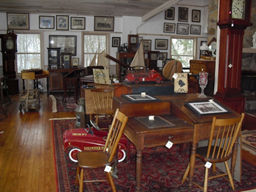 Take a ride out into the countryside and step back in time to three floors of some of the finest antiques available. You will find a collection that was started over twenty years ago and has been building to overflow the beautiful, over-sized wooden home where it is housed.
From beautiful beds and bookcases, countless clocks and desks, to chairs and tables we have selections of all things primitive. Sitting side-by-side are primitives with the most exquisite collection of tall clocks.
You will find photos and paintings the likes of Stobart and Youngblood, along with Remington statues.
See our collection of Lionel trains, steam engines and other steam-related items that are great items for big and little boys.
We enjoy finding new homes for our primitives and other fine articles. We also enjoy passing our findings on to others to enjoy.
Picture Perfect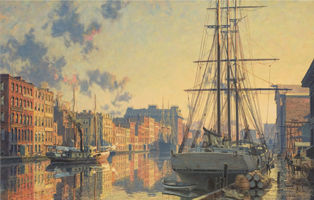 We have over 200 pictures including Stobart's with his vision of recreating the American Harbor scenes in the days of the great clipper era;  Griffing's with his fascination of the Eastern Woodland Indian of the 18th century; and Youngblood's with his take on Pittsburgh.
We also have a collection of Remington's the Western Artist and much more to see. Worth your while to visit us and take home a picture perfect for your home.
A Grandfather Clock by any other name is still tall…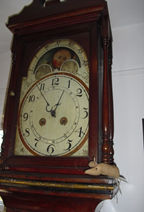 A typical grandfather clock stands between 6 and 8 feet tall making it stately in any room, characterized by a long, narrow wooden case driven by weights or chains.
Winding a grandfather clock is the biggest delight of owning one. These clocks usually have an 8-day movement you need to wind weekly.
Whether you call it a tall clock, floor clock, or grandfather clock they live warmly in the hearts of many in almost any home.
Come see our selection of clocks which include grandfather, shelf, case, nautical, cottage, mantle, gallery, schoolhouse, pocket, and bracket clocks. What can we say but that we have time on our hands?
Contact us for details or call to make an appointment to stop by at 724-733-5997.